Pollution of the Sea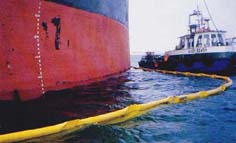 Being the appointed P&I Correspondent, our company often deals with cases connected with the pollution of the sea with oil products and other pollutants from vessels. To avoid undue vessel's delay, her detention or arrest we hold negotiations with authorities persuading them to accept the guarantee issued by a P&I Club or Insurance Company, where the shipowner's liability is covered, before indemnity for actual damages is provided.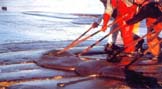 Such cases are governed by the Russian Federation "Nature Protection Law", the RF Merchant Shipping Code, the RF Civil Code, the RF Arbitration Code of Procedure, as well as ecological bye-laws, and require representing shipowners' interests in relations with the Ecology and Sanitary Authorities, in the Harbour Master's and Prosecutor's Offices and at arbitration courts.
The attendant problems are as follows:
finding a vessel liable for the accident though actually she is not guilty at all;

the claim procedure norms violations made by the authorities officers;

a tendency on the part of the authorities to unreasonably overstate the damages caused to the environment and clean-up expenses.
To get detailed information on the above question or consultations on a particular case you may contact us.
[ Vessel's Detention/Arrest ] [ Customs Regulations Violation ] [ Contraband and Violation of the State Border ] [ Pollution of the Sea ] [ Vessels' collision, contact with fixed/floating objects ] [ Injury or Death of Crewmembers/Others ]