Discharging bulk cargoes (sugar, zinc/lead concentrate) at Novorossiysk port
The procedure of discharging bulk cargoes (i.e. raw sugar, zinc concentrate, etc.) at Novorossiysk is as follows.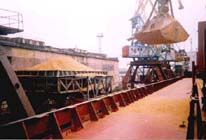 The cargo is discharged into r. w. wagons by port stevedores by means of grabs, which are not maintained well. The discharging is carried out very carelessly what results in considerable cargo spillage on a pier, vessel's deck and in the sea water. On completion of discharging Statement-Notice and General-Statement are issued by Port Authority grounding on the results of the cargo re-weighing on port scale performed in the course of discharging. These official documents indicate the actual quantity of cargo accepted by the port/cargo receivers.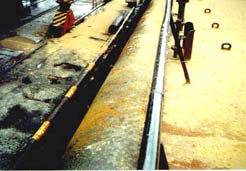 Due to the inaccuracy of port scale, incorrect manner of re-weighing provided by the port, as the wagons are weighed without disconnecting, and due to spillage, the cargo shortage in aggregate may amount to 1-1,5 % of total quantity of the cargo.
Our experience that we have gained for the last 4 years vividly shows the current tendency at Novorossiysk port - there has never been surplus while discharging sugar in bulk, and usual amount of shortage claimed by cargo receivers achieved 100-150 mts.
Such official figures of shortage given in the General-Statement and the Statement-Notice enable the cargo receivers to lodge shortage claims against shipowners.
For efficient protection of shipowner's interests it's necessary to appoint a competent surveyor who would conduct initial and final draft survey, perform clean holds inspection, and render assistance to the Master in proper signing Statement-Notice. The above is within the scope of services provided by our company.