[ Novorossiysk Port ] [ Tuapse Port ] [ Rostov-on-Don Port ] [ Port Kavkaz ] [ Port Temryuk ] [ Taganrog Port ] [ Yeysk Port ] [ Port of Azov ]
Yeysk Port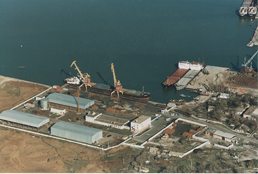 The Port of Yeysk is situated on the shore of the Taganrog Bay. The port consists of 6 docks and 1 passenger berth. There is one berth specializing in loading grain cargoes of the volume up to 300 thousand tons from the port silos.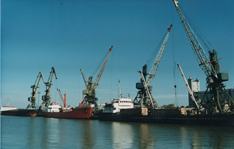 Presently the port throughput of the cargo amounts to 1 million tons annually. The main cargoes are steel, round timber, scrap, bulk cargoes, such as fertilizer, grain, sand and other building mineral materials. The piers front totals 1650 meters in length.
The depth of the approaching canal and those of the port waters make it possible to handle vessels with draft up to 4,5 m.
The ice-breaker "Kapitan Krutov" which is based in the port provides for continuous port operation in winter time.
Yeysk Port Interractive Map (in the Russian language) - http://www.solna.ru/welcome.htm